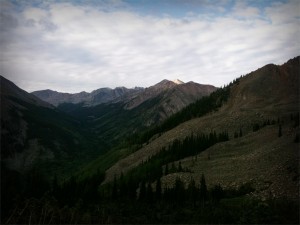 Figure on your time at the summit of Hope in-bound to be about your half-way time. ~ John
Mon 26 July: 00:47, 4.88 miles, Casa Trails
Tues 27 July: 00:54, 6.50 miles, Boulder Creek Path
Wed 28 July: 2:58, 12.53 miles, Gregory>Green>Bear>Mesa
Thurs 29 July: 00:39, 4.13 miles, Casa Trails
Sat 30 July: 4:45, 30 miles (est), LT100 Start to Treeline +
Sun 1 Aug: 8:11, 38 miles (est), LT100 Winfield to Mayqueen +
Total: 18:15, 96.04 miles (est), 14,000′ vert (est)
Total – July: 63:22, 318 miles (est), 46,700′ vert (est)
Capped off the LT100 training with an interesting week. Highs and lows, as one might expect but overall I feel that I have put in a solid effort to give Leadville a go in three weeks. I spent a ton of time on the course, took good care of myself (thanks in HUGE part to Rach's efforts and support) and a lot of quality miles leading up to this race. Not sure where this will all take me but I have definitely enjoyed the journey.
Things have just gotten crazy busy. This is a combination of running out of time to prepare for the race, logging longer and longer runs and some business developments that have kept me in negotiations and planning much of the time over the past several weeks. I had a couple of fairly blah runs this week that, while certainly not encouraging, really did allow me to focus on shrugging things off when they aren't going exactly to plan and working through adversity. By the weekend and Camp 2: Hello Faddah, however; I was ready to rock.
The highlight of the week prior to heading up to Pbville was definitely either Tuesday's effort (simple surges but just a great overall run) or Wednesday's jaunt up Gregory, Green and Bear. The latter was significantly more unpleasant as I experienced stomach problems throughout the run but still managed to get the circuit completed on time. I considered abandoning the effort at several points along the route but stuck with it through the prescribed time and, though my distance was a bit off, left the day behind me with something to chalk up in the "win" column. A decent way to enter the weekend and my final Leadville Camp: Hello Faddah.
Jammed up to Leadville Saturday morning to run the first few sections of the course. The weather was perfect for a run and I started in town and quickly made my way down the Boulevard and on to Turquoise Lake where the course switches from dirt and paved roads to fat singletrack that meanders around the lake. Lots of people were out this weekend, checking out the course in preparation for both the run and the mountain bike race which share some common ground. I was a bit quick down to the bottom of the Boulevard (00:30 – probably 2 minutes fast) for my prescribed time to Mayqueen, but was feeling strong so just kept things mellow as I spun easy miles along the edge of the reservoir. No press, just super relaxed running.
I made it into Mayqueen a full 10 minutes earlier than I had planned (2:05) but still just felt great. Filled up the hydration pack and headed back along the course. I have run the first 23 miles of the LT100 course 3 or 4 times this year in prep for the race so I know it pretty well at this point. Just ran really comfortably up the paved road out of the Mayqueen campground and made quick time to the Colorado Trail section. This portion of the course is a little more technical and rolls at first then settles in for a short climb up to Hagerman road. I made quick work of this section and spun an easy 9-minute pace up Hagerman to the first major climb of the course – Sugarloaf.
The north side of Sugarloaf is honestly not too bad. It is all easily runnable but I settled into a familiar run/walk cycle for the trip up and quickly summited without any real effort whatsoever. Probably averaged 11-minute miles on this section to the summit (3:10) and felt great. I dropped down the south side, which is significantly steeper and made my way to the Fish Hatchery in a blazing time (3:55). I still felt super strong and so I just motored the next segment to Treeline in 37 minutes or so to finish the day's run in 4:32.
Since I was about 1/2 hour early, I had some time to kill before Sean came to pick me up. So I put my feet up, took a little nap and then jumped in with a nice guy named John who was running an out-and-back on the course to cover about 67 miles. He was moving slowly, heading in-bound on the course so we just jogged along and swapped stories about past races, amazing performances by elite athletes and the usual banter. I put in about another mile or so before Sean arrived. I bid John farewell and was off to grab a shower and some food then to hit the sack.
Sean was kind enough to agree to drive me to Winfield in the morning where I started my run. He had a shorter day in store and timed his start so that we would hopefully arrive back in Leadville in close proximity to one another. The first mile out of Winfield was pretty clunky then I found my running legs and, once again, was off on another adventure. I settled into an easy pace down the road then just hoofed it up the back side of Hope Pass. This section is steep. And relentless. It demands that you just pick a gear and grind. So that is what I did. I made it to about treeline before having to stop for some first aid treatment on badly chafed thighs then continued my assault of Hope Pass. I summited in about 1:23 and just let it flow down the north side. I got a little lost after crossing the creek but quickly found the right path and made quick time to Twin Lakes (2:28).
After getting fresh water and treating my legs, I jammed out of Twin Lakes and up to the Colorado Trail. I am least familiar with this section of the course but have run it now both ways a couple of times. Once you crest the initial climb out of Twin Lakes, it rolls along for a bit then drops onto a new section of the course that is flat and fast. I made one wrong turn in here which cost me a little time but figured out my mistake fairly quickly and continued on to the new Treeline crewing station in good time (4:39).
After mucking about getting gravel out of my wet-again shoes (there used to be a bridge or culvert crossing of some sort over the creek at Treeline that has recently been removed), refueling, and doing some more first aid on my thighs, I headed out to Fish. This used to be one of my most dreaded sections of the course but, having participated in a few road races and training on roads all winter, I no longer fear the slab. I made good time to Fish (5:32 with that long transition at Treeline) and, though completing a couple of run/walk cycles in this section, was still feeling strong for the climb up Powerline.
The thighs were getting progressively worse but I settled into a strong hike on this section, only stopping a few times for short breaks. The first section is a bear so mentally, once you get over that, all the rest of the climbing is way less arduous. Don't get me wrong, this whole section is a bitch but for those of you seeking a mental pick-me-up, thinking of each of the false-summit sections individually will really help and knowing the first one is the worst of them will make this climb much more tolerable. I hit the summit in 6:49 and made my way down toward Mayqueen.
I was definitely slowing down a bit at this point due to the chafing and started to really pay for it. I ran out of water on the descent and was reduced to a painful walk down the Colorado Trail. I did manage to run a lot of the downhill to Hagerman as well as the mile or so on Hagerman itself but really lost a lot of time on this section. Draining the water reserves didn't do me any favors and I finally reached a creek on the CT and refilled, took a break and assessed my condition. I then continued down the trail to Mayqueen (8:11) and assessed.
At this point, I was actually still feeling pretty strong and knew I could make it in the rest of the way. I just wondered about the value/quality of that effort and decided to call it a day at this point. Just didn't seem prudent or beneficial to walk in the remaining miles and increase the damage to my poor thighs. So I conferred with Sean who agreed to come pick me up and called it a day.
All in all, it wasn't exactly what I had planned but I feel good about the weekend. I decided to pull the plug on the final day's run due to the dreaded chafe and really feel comfortable where I am at this point. I am working on some preventative measures to keep the problems at bay during the race and am really looking forward to the 21st where it will all be put on the line. Now I will start my taper and enjoy the next few weeks in the run-up to the race.
~stubert.