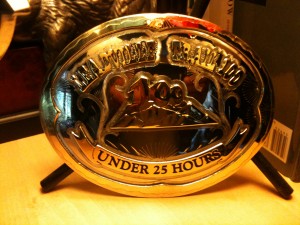 Yeah, it's a lazy dog-dangling afternoon. ~ Homer Simpson
Relaxed on Sunday and Monday but then got back after it on Tuesday and Wednesday. I have found that getting the legs moving again shortly after a big effort really pays off and Tuesday's run was no exception. It is remarkable how well I feel after the race – especially given how poorly I felt post-race in '07. I attribute both the success over the weekend and the relative ease of my recovery to good form, consistent and voluminous training and great nutrition. So bonus!
More short recovery efforts (or lack thereof) scheduled for tomorrow and the weekend. Very psyched to be in this kind of mode this early post-race.
~stubert.