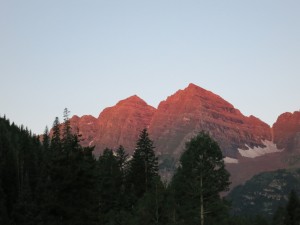 That was… beautiful. ~ Edwina "Ed" McDonnough
Sometimes, you just need to lean on your friends to get you back in the swing of things and Caleb definitely upped the ante by recommending we tackle Aspen's famous 4-Pass Loop as a main summer goal (Note: My Garmin blew up at mile 25 due to my turtle-esque pace). I knew this had the potential to be both an incredible adventure and a serious effort. I was up for both. (Here's a link to the full gallery.)
We decided that a weekday trek had the best potential for success so penned in the 24th as the day we'd tackle the route. This is a popsicle loop of about 27 miles that summits 4 passes: Buckskin (12,532), Trail Rider (12,412), Frigid Air (12,398) and West Maroon (12,469) on a route that circumnavigates the Maroon Bells. We jammed up to Aspen on Monday, stopping briefly to hike up to Hanging Lake in Glenwood Canyon (well worth the effort) and car camped at the trailhead.
Up before sunrise on Tuesday to start our adventure, Caleb and I grabbed some breakfast, packed up our gear and headed out just as the sun was kissing the tops of the Maroon Bells. What an amazing start to a proud adventure. We made our way up the technical singletrack toward Buckskin Pass and fell into a decent rhythm of steady forward progress. the route climbs steadily upward through aspen groves to treeline where we were greeted by incredible views. One final, steep pitch through fields of incredible wildflowers and we made our first summit (about 4.9 miles into the run).
We headed down the steep, northwest side of the pass and made our way quickly into some of the most incredible singletrack running on the planet. This section drops down below treeline and makes its way toward Snowmass Lake. We got a little off-piste for a bit while trying to navigate what was described as a bit of a hidden turn but soon were back on track. (If you do this loop, turn left at the log footbridge under the beaver ponds rather than taking the somewhat obscured path above the ponds.) We quickly made our way to the unbelievably gorgeous Snowmass Lake (words do not describe) then pushed up through even MORE amazing fields of wildflowers above the lake to the summit of Trail Rider Pass at 11.75 miles into our day (probably more like 10.75 for those who don't get off-route). More amazing views. This could never get boring.
The southwest descent of Trail Rider was STEEP and my knee got pretty grumpy on this section but we soldiered on, stopping to fill up with water from a small stream about mile 14. The approach to the next pass, Frigid Air, is long but we were treated with decent running through a variety of ecosystems and were treated to more incredible vistas and scenery. We navigated a section of blow-down just before reaching a large waterfall about mile 16 that set the stage for a short, steep pitch just below treeline. The trail then climbs steadily through one of the most beautiful mountain valleys you will ever see on the final approach to Frigid Air.
I really started feeling it once we got back up above treeline on Frigid Air. My knee was grumpy, my stomach abandoned me and I resorted to some old Leadville tricks to keep things moving. 100 steps, stop, 5 big breaths, repeat. Eventually, I summited Frigid Air (about mile 19) quite a bit behind Caleb who was still moving well. From the summit, you can see Crested Butte and we ran into our first day-hikers who had made the climb up from the CB side of the pass (Schofield, if memory serves). Most of the traffic we encountered up to this point consisted of backpackers who normally take 3 days to complete the circuit. Needless to say, they found our 1-day shenanigans to be either impressive or idiotic or both.
One pass remained and I had pretty much run out of running juju though I was still hiking pretty quickly. We descended just a bit on the trek over to West Maroon then I went back into 100-rest-repeat mode for the final steep push up to the top of the pass. I summited well behind Caleb (again) on what was definitely the most trafficked section of the route (lots of people on West Maroon, about mile 21) and we headed down for the final 7 miles of our journey. Caleb was moving well (better than I, for sure) and I ran a little on the descent but that made my knee and stomach unhappy so I just decided to hike it in. Caleb stopped several times to check on me and I finally cut him loose since I didn't want to extend his day any further. Since there was a lot of foot-traffic at this point, it was safe to split up.
I hiked the remaining few miles. Stopped briefly to talk with a Ranger at Crater Lake (about mile 26) and just got the rest done in a slight (and welcomed) sprinkle of rain. Saw some blue grouse at the end of the journey just above Maroon Lake and shortly thereafter found myself back at the car.
Caleb was all cleaned up and ready to go so I quickly scrubbed off the worst of the day's grunge, tossed most of my stuff into his truck (with the exception of a pretty much new pair of shoes I donated to the Trailhead gods on accident), and we made our way back to the Front Range. All in all, a fantastic day out of the trails. I definitely didn't perform as well as I had hoped but we bit off a pretty big chunk and I didn't really have the time to get trained up for a 7+ hour push so I don't feel bad about the effort. It really showed me how specificity of training works (I'm speedy for efforts up to 3-4 hours but after that, I start to fade) but also made me really happy to have been able to accomplish this type of run on what fitness I had in the bank. I also feel really blessed to be able to get to see some of the more remote parts of our state. Not a lot of people get to experience this stuff. I'm super lucky to be able to do so.
~stubert.