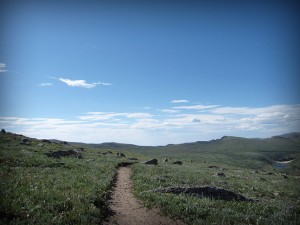 Hey, careful, man, there's a beverage here! ~ The Dude
Mon 12 July: 3:58, 21.54 miles, Hello Muddah: Day 3 Betasso laps
Wed 14 July: 00:32, 3 miles, Casa Trails barefoot
Thurs 15 July: 00:36, 4.11 miles, Janet's house surges
Sat 17 July: 2:00, 11.20 miles, Casa Trails exploration
Sun 18 July: 3:30, 16 miles, High Lonesome
Total: 10:38, 55.85 miles, 8,924′ vert
Finished up Camp One: Hello Muddah with an easily supported effort in Betasso that fed into some night running. It was hot, even at the 6:00 start but my legs responded quickly to the effort and I fell into a nice rhythm spinning laps just over 30-minutes long. Ate shit on lap 3 and cut both elbows, my left hand and my back and landed heavily on my right hip. Such is life… hopped back up and continued, albeit bloody and dirty. Maintained a fairly steady pace throughout only walking during the final laps as my legs got tired and it got dark. All in all a successful end to a successful Camp. Feeling more and more prepared for the race, which is great.
The next several days were all about rest and recovery so I took Tuesday completely off, did a very mellow run on Wednesday barefoot then just rolled some easy miles with a few surges with Janet on Thursday. I was back at it Saturday with 2 hours in the woods. Didn't feel great but did find a new trail to keep me entertained. All in all, I felt better as the day progressed, so that was encouraging.
Sunday, I headed up to one of my favorite routes, High Lonesome. This trail peaks at about 12,000 feet on the Continental Divide in the Indian Peaks Wilderness northwest of my house. I started at the Hessie Trailhead after a deep creek crossing on my motorcycle, which was exciting (and wet). The King Lake trail is fairly mellow and I made quick work of the ascent, feeling strong and fresh. Hit the High Lonesome trail in about 1:20 then headed north along the divide to amazing scenery bursting with color. The wildflowers are amazing this time of year and seeing them up high makes it even more special.
Spun a couple miles on High Lonesome then dropped down on the Devil's Thumb Lake trail. There was one large patch of snow with which to contend but it wasn't a huge deal. Then I made my way down, past Devil's Thumb Lake and decided to burn a little more time by heading back up to Lost Lake. I usually spend quite a bit of time in the Lost Lake area in the winter so it was cool to see it un-frozen and devoid of snow. Found our standard hike-out area and poked around up there a little bit before heading back down to the moto where I packed up and headed into Ned to meet with Pete to discuss crew logistics for the race.
All in all, a good week off the heavy lifting with some fun miles thrown in for good measure. We are now about 5 weeks out and I am feeling strong, fit and healthy. All good ways to be.
~stubert.