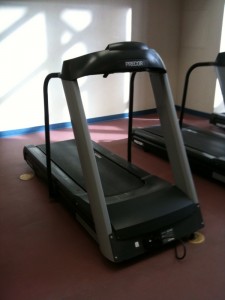 Oh, he's drunk. How would he know where we're going? ~ Del
Wednesday 3 Feb: 1:18, 9.5ish miles, Indoor track Tempo run
Hit the gym for some tempo work and other than the traffic jam that was the track (seems like the whole world was there last night) and some spazzy kids running around (usually the wrong direction) and generally messing things up, it was a decent run. Warmed up for a couple miles at about a 9-minute pace, then ran tempo for 50 minutes at sub 8s, then donned the KSOs for a mile of "barefoot" cool down. It was shorter than I had scheduled but running laps on the short track (1/16th of a mile per lap) can be a bit mind numbing. Honestly, I have gone as long as 1:45 before but that day I was in the zone, no one else was there so I could reverse my direction every once in awhile and there wasn't a gym full of screaming kids playing hoops and volleyball. So yeah, focus is a bit key.
Overall, I am feeling pretty well. The hamstring was a little tight to start but loosened right up and my knee didn't give me any troubles whatsoever. So that is good news. I got a room booked for the night of the 12th in Moab and am getting pretty psyched to do that race. Should be fun.
We got a dusting of snow last night up here (whoa!) and so I may head over to Eldora to skate instead of running. Haven't made that call just yet. Very excited to see Simon Boccanegra this weekend on the big screen and we are cleaning runs at the Bunny Barn on Sunday. Good times. Good times.
~stubert.