How does Scott Jurek know you? ~ Bob
He doesn't. ~ me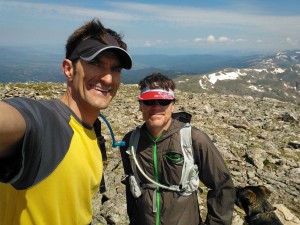 When Tall Bob and I were sussing out this route, I had a particularly tough time finding any good beta. So I thought I'd share with a quick trip report to help those who might desire to follow in my footsteps.
James Peak is farily easily accessed from the east via Rogers Pass. This fantastic trail starts just to the north of the Moffat Tunnel at the terminus of the Tolland Road about 8 miles west of Rollinsville. Go to Rollinsville. Turn west. Drive until you see a tunnel. Easy peasy.
At the risk of giving away one of my favorite secret spots, Rogers Pass is incredible. Mostly runnable (or completely, if you are a stud), the pass travels west along South Boulder Creek through old-growth forests replete with waterfalls, wildflowers galore, and a variety of gorgeousness in which to wallow. The trail itself crosses the creek on numerous occasions and spits out right at treeline at the headwaters at Rogers Pass Lake (~4 miles). Trust me, this is worth the hike. Heart lake rests in high tundra just above and is a short push further up the pass. From Heart, follow the trail up the final pitch to the pass summit (~5.5 miles). Bask in the glory.
From the summit of Rogers, there are a number of route variations for the explorative-type but since you came here to learn about James Peak, I'll try to stay on target. Bear left (south-ish) from the summit and you will see trail markers that will quickly guide you to the well-established route toward James. This dips along the back (west) side  of the ridge and contours southerly until it pops back out on the east side of the ridge for the final climb up to the peak's summit (13,300′ according to Wikipedia). Reverse your steps back to the start. Good times.
My final stats for the round trip are as follows:
Total distance: 13.34 miles

Max elevation: 13,314
Elevation gain/loss: 4,254′
Crash landings: 1 (me)
Scott Jurek sightings: 1