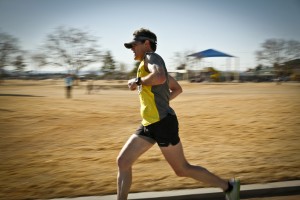 Everyone's a winner, baby, that's the truth (yes, the truth) ~ Hot Chocolate
Jammed out to Vegas a couple of weeks ago and while I didn't win anything at the tables, I did manage to yoink my first ever running race victory. Was not expecting that.
Prior to heading to the desert, I found a 5K to join and headed out there early Saturday morning after a fun-filled night with the GroundFloor Media crew at Tao. We were staying on the Strip in the Palazzo so I grabbed a cab and headed up to the North end of town to the Girl Scouts Thin Mint Sprint, got my warm-up on, met a couple of other runners, then coasted to a new PR and easy win.
The course was pancake flat with some tight spots and turns so I lined up at the front. Once the gun went off (actually, no gun), I surged ahead to avoid any congestion in the first few turns. That was the last I saw of anyone. I had one guy a few meters behind at mile 1 but after a quick surge, put distance on him throughout the rest of the race. Toward the end of the second circuit I started lapping slower runners which slowed me down a bit but I still finished with a new PR of 17:47. And yes, I receive a box of Thin Mints for my efforts.
Super pleased with this result and the opportunity to run hard and win!
~stubert.