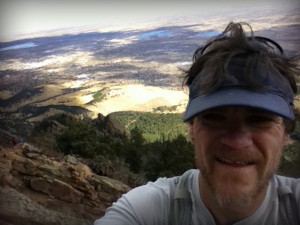 Strikes and gutters. ~ The Dude
Interesting week of running. Felt a little wonky all week but kept with it and capped things off with a 14+ miler today that took me a LONG time to complete. Logged quite a bit of climbing though and given the crankiness of the bod, am going to chalk it up in the "win" column. Thinking some of the grumpiness may be due to logging too many miles in shoes that are a bit too supportive. Going to remedy that ASAP. It was a gorgeous day out there with summertime-esque weather, a fast-moving rain/sleet/wind storm and everyone and their dog (quite literally) out there working the trails. Even ran past Tony Krupicka and Geoff Roes between Bear and SoBo. Going the other way, of course.
Here is the week in review:
Monday: 00:30, 3.66 miles, treadmill shake out
Tuesday: 00:45, 6.0 miles, treadmill surges
Wednesday: 00:57, 7.9 miles, Sloan Lake repeats (800s and 1-mile)
Thursday: 00:35, 4.0 miles, treadmill shake out
Friday: 00:20, 2 .0 miles, treadmill shake out
Saturday: 00:56, 5.9 miles, Casa Trails w/exploration and surges
Sunday: 3:23, 14.25 miles, Front Range Four: Flag, Green, Bear, SoBo
TOTAL: 7:26, 43.73 miles
All in all a decent week. As you can see, I am logging quite a bit of time on the 'mill. Really enjoying having the flexibility it provides but certainly would prefer to be able to run outdoors more frequently. Work this week was a bear.
Trying to figure out plans for 2011. I am definitely running the San Francisco Marathon in late July and my primary goal for the year will be to crank out a sub-3 marathon so I am trying to target a good race during which to do that. In the meantime, I am hoping to run some 5K, 10K and halfs and would like to toss in a 50-miler somewhere for good measure. I also may give the Red Hot 50K another go since it kinda kicked my ass last year. If you have any recommendations for fast marathon events, let me know.
~stubert.