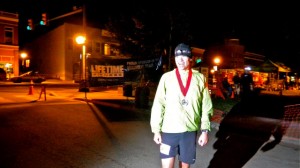 Captain Ed… probably not even a real Captain. ~ Kyle Gass
I sat on the side of the trail at about mile marker 83. I'd just puked my guts out for the third or fourth time and wasn't quite sure how to get out of the mess into which I had gotten myself. Bob leaned over me and implored me to eat my way out of the hole into which I was firmly planted. "We have to build a foundation right now. You have to take a bite of this sandwich."
"No way," I thought, as my stomach twisted itself into knots at the mere thought of ingesting anything… much less another bite of that goddamned sandwich.
"C'mon, man, you can do this." So I ate. Gingerly at first but I ate. Gels tasted like sucking down bug spray and Charles Corfield's RocketFuel had long ago passed as a nutrition option. So I ate what we had on hand, got up and kept walking. All I could think about was a way off this mountain and, when one didn't appear as we summited Sugarloaf an hour later, I had no other options but to keep moving forward into the night…
Prep:
The taper week prior to the 28th Annual Leadville Trail 100 Run was less than relaxing. Weather and misfortune conspired to make the first two days fairly miserable. I was caught in a serious thunderstorm on Monday evening that turned a mellow, 25-minute scheduled run into a PR 5K. Not really what was on the agenda. Then, due to my negligence, one of our kitties escaped out a window I failed to secure properly and into the woods behind our house. Rach and I spent countless hours looking for her Monday night and Tuesday all day and into the night. After much nighttime tracking and perseverance (hmmm… sounds a lot like a certain race), Rach caught her early Wednesday morning (like, 3:30 early not 7:15 early) and woke me up with the good news and one scared cat.
So sleep at the start of the week was a bust as was anything resembling a "normal" training regimen. "That's okay," I thought. Our kitty was home, the storms had passed and I had a big weekend ahead.
Pbville:
Pete and I rolled into Leadville early Friday for check in and pep-rally (both mandatory) then settled into a rented home just two blocks from the start. I weighed in at a hefty 167 then went for a quick run to shake out the travel jitters and leave the rest of the afternoon open for pre-race preparations and a quick nap. Bob, Edy and Jess were on their way up and everything was coming together nicely with fantastic weather conditions predicted for the weekend. And did I mention the cat was safely at home? We went over final checklists, packed the truck, ate some dinner then hit the sack early. I was asleep by 9:00 and slept soundly until 2:55. It was time…
The Race:
The LT100 has a rich history and travels along roads and trails in Lake County, Colorado. The course is an out-and-back-style event with the turnaround at the historic mining town of Winfield, 50 miles away. The start is in the center of town at the intersection of 6th and Harrison (10,200′) and the course summits Sugarloaf twice (11,600′), Hope Pass twice (12,600′) and has a low point of 9,200′ in Twin Lakes (miles 39 and 61). Runners will complete 15,000 feet of climbing during the course of the day. Certainly a major challenge.
After checking in (yes, again) at the start, I grabbed some breakfast, double-checked my race packs and headed to the start. At 4:00am, Ken fired the shotgun to start the 2010 LT100 and we were off.
Start to May Queen (2:09:34, miles 0-13.5):
The first segment of the course rolls west down the Boulevard to the Turquoise Lake dam then along singletrack trails on the north side of the lake. I planned a mellow start and managed (somewhat) to stick to the plan. 800 runners signed up for the race this year (637 started) and so I didn't know what to expect for the start. Pete went straight to May Queen in order to ensure that he would be able to meet me with food and supplies just in case the increased numbers of runners turned that aid station into a cluster. Past years have only had about 400 participants so, with the pack increased by 50%, things could have gotten interesting.
I was a little fast in the first mile and settled into a very easy rhythm on the first 4 miles of the course which are mostly downhill. After about 1.5 miles of gradual climbing (and a brief pit stop for me in the woods), there is a short, steep climb up to the Turquoise Lake road where the course drops onto singletrack. I focused on keeping my effort to a bare minimum and passed slower racers where I could – not stressing too much about my time. After 6 miles of singletrack and another mile or so on pavement, we reached the May Queen aid station where Pete picked me up, gave me my second Nathan vest and sent me on my way. I was about 6 minutes ahead of schedule and was feeling fantastic.
May Queen to Fish Hatchery (4:03:00, miles 13.5-23.5):
After leaving MQ, we climbed up a short, paved road to the Colorado Trail. This portion of the course is gorgeous and one can take in a lot of energy as the sun starts coming up. I made quick time through this section as I was running with a slightly more advanced group than in '07 so was less hindered by slower runners. Though I felt I went a bit too quickly on the previous section, I was pleased with my position and made fast work of the technical trail. After the short climb up to Hagerman, I whacked down some of Rach's wonderful hummus and picked up the pace for the mile or so leading up to the Sugarloaf climb then just floated up and over the first major uphill of the race. I mellowed down the south side Powerline section and then tried to give back some time on the paved approach to Fish Hatchery. I was really trying to run within myself and not press any portion of the race at this point but still managed to beat my expected section time by about 5 minutes.
My crew met me at the entrance to Fish, sent me up the road to the aid station and had everything prepped for my next segment. After another trip to the john, they sent me off quickly with a fresh bottle, almond butter and jelly sandwich and cheers of encouragement.
Fish Hatchery to Box Creek/Halfmoon II (5:28:54, miles 23.5-30):
I used to dread this section. Zero coverage from the sun and a flat swath of pavement combine to make this one of the least interesting sections of the course but loads of road training and a couple of marathons under my belt made it significantly less daunting this time around. This portion of the course is all about establishing a rhythm and holding back any desire to try to make time on other runners (at my level, at least). So that's what I did. I covered the 4 miles to Treeline without drama, grabbed a fresh vest from my crew and headed up the revised course route along Pipeline to the Box Creek/Halfmoon II aid station about a minute slower than my predicted pace.
Box Creek/Halfmoon II to Twin Lakes (6:57:18, miles 30-39):
I budgeted quite a bit of time for this section having fallen apart on it a bit earlier in the year on a solo training run. Now, I attribute that demolition to improper electrolyte imbalance and being alone for nearly 8 hours but I definitely wanted to treat this portion of the course with respect to prevent similar results. I walked most of the uphills and tried to be very conservative with my effort. I sucked down some more of Rach's awesome hummus, continued to nosh on sandwiches and RocketFuel and consumed fluids at a steady pace. All was going according to plan and I felt strong on the Colorado Trail. So much so, that despite my efforts to slow down the pace (intentionally walking sections I could have easily run), I took another 17 minutes out of my forecast section time and rolled into Twin Lakes in sub-7-hours. The crew put the final touches on my pack, handed me my sticks and sent me on my way over Hope Pass.
Twin Lakes to Hopeless (8:36:23, miles 39-43.5):
I intentionally gave back some time on this section in order to try to get back on schedule and rest a bit. After putting the swampy section behind me and crossing the knee-deep creek, I settled into a steady power hike. Despite my mellow pace, I did pick off quite a few other runners on the way up the Pass on the way to Hopeless. I continued to feel amazing and just kept my rhythm throughout this section. The Hopeless Aid Station is definitely a place to visit if you ever have the chance. It sits at about 11,600′ in a gorgeous valley in the shadow of Hope Mountain. Supplies are delivered to this alpine wonderland by a dedicated team of volunteers and a dozen or so llamas. Truly a site to behold. I passed quickly through this station, pausing only briefly to refill my water supplies and to thank the volunteers before knocking out the remainder of the climb up and over to Winfield.
Hopeless to Winfield (10:13:32, miles 43.5-50):
The weather this weekend was incredible. No rain and cool-but-not-cold temperatures combined to make for spectacular running conditions. I made my way up the high-alpine trail above Hopeless and was passed shortly thereafter by the race front-runner, Anton Krupicka. Tony has won the race twice and looked to be putting on a show for everyone again this year. He looked fit, fast and fluid when he blazed by me. I gave him a quick word of encouragement and continued on my way up, fully expecting to have a train of competitors in his wake with which to contend on the narrow, rocky trail. I soon summited Hope (12,600′) without having been passed by any other runners (and actually picking up a few more places) and made my way down the viciously steep south side of the pass.
At about treeline, the chasers started to appear with Gunnison local, Duncan Callahan (and '08 LT100 champ) leading the chase. Tony had a huge lead at this point and I suspected (later proven to be true) that only his demise would lead to him not winning the race. Duncan was the eventual winner after Tony dropped at about mile 84.
I continued to drop down into the Winfield valley only pausing to allow those now hiking back up the pass room to get make it by. Since I had chipped away so much time from my schedule, I didn't stress this section at all and focused on saving my legs for later in the race. After what seemed like an eternity, I popped out onto the Winfield road and made my way back west to the ghost town of Winfield.
This section is notoriously congested and dusty so I took a bandanna to use as a dust mask. This worked a bit but definitely made it difficult to breathe so I only wore it when conditions were most severe. This segment has been described as the longest two and a half miles of running you will ever do and well… pretty much lives up to that description. It is remote, so pre-running the segment can be a bit of a logistical nightmare so consequently I was less than familiar with any landmarks to guide my progress (even though I ran it up once and down twice in training). After about 25 minutes, the town of Winfield became visible and I knew I was in good shape. I spun into the aid station at about 10:06, was weighed by medical staff (lost 7 pounds in the first half of the race), was told I was in 66th place and sent on my way with encouragement from Jess' sister, Amanda, who was volunteering at the station as part of the medical team.
The official time of 10:13 came after I stopped to refuel and pick up my first pacer, Bob. With a rousing send off, we headed out of the aid station and back down the Winfield road for the second half of the race.
Winfield to Hopeless (12:28:16, miles 50-56.5):
Bob and I were running well down the Winfield road when we realized that we had forgotten my bottle at the aid station. Normally this wouldn't have been much of a concern since we could make due with what Bob had packed, but this particular bottle was accompanied by the bottle holder, which held my electrolytes. Not a good thing to leave behind. So we walked quite a bit of the Winfield road waiting for the rest of the crew to catch us in the truck. Just before the turn off to the Hope Pass trailhead, they caught us, handed over the forgotten bottle and we were on our way.
The south side of Hope is relentlessly steep. There are a few sections that provide brief respite from the brutal climb but they are few and very far between. It is simply a grind and the best way to tackle it is to just try to get into a rhythm and keep things moving. Unfortunately, I wasn't quite able to ever find my true rhythm and was frustrated by slower runners not yielding the trail. Really pretty lame but whatchagonnado? So we trudged on. Bob encouraged me to eat and drink throughout the climb to the top and with lots of prodding, we made it to the top only slightly off the projected time. We dropped down the north side of the pass and made it quickly to Hopeless where I treated some minor chaffing and Bob refilled the bottles.
Hopeless to Twin Lakes (13:48:01, miles 56.5-61):
The remainder of the descent back to Twin Lakes was mellow. I didn't push the pace at all and just tried to have a good time on the course. Things were starting to get a little more difficult for me but I knew I had people waiting for me at Twin. Which was a real boost. Having Hope in the rear view would be a boon as well.
Bob and I popped out of the woods, made our way across the flats, through the creek and swampy sections where he ran ahead to prep the crew. After one last little rise I heard a whole bunch of cheering and was greeted to a HUGE entourage of people who had come all the way to Leadville to cheer me on. My dad and Donna were there as were John and Shana, Tom and Sybil, Luke, Vance and his kids… it was incredible to have so many people there to see me race and offer support and encouragement. I changed my shoes and shirt, talked with everyone briefly and then headed out of Twin Lakes with Jess leading the way. Definitely a big "up" for me that helped set the tone for the next segment to Box Creek/Halfmoon II.
Twin Lakes to Box Creek/Halfmoon II (15:36:06, miles 61-70):
Jess and I put it into diesel mode on the climb out of Twin and didn't push the pace at all. Just settled into a good rhythm and chatted throughout this segment. Once we reached the bridge at the Mt. Elbert trailhead, we started running again and ran all the flats and downhills while power hiking the ups. There were a few other runners in this section as well with whom we had decent camaraderie. This was actually a great segment of the course and we rolled down the Colorado Trail and onto the new section quickly and without any real stress. It was nice to have the sun going down… very peaceful. We heard coyote howling in the distance and soon found ourselves at the aid station where we grabbed some fresh cantaloupe and checked out the serious spread they had for everyone. Amazingly well-stocked. Then out we went into the twilight for the return to Treeline.
Box Creek/Halfmoon II to Fish Hatchery (17:22:06, miles 70-76.5):
Jess took me in to Treeline where we met the rest of the crew, Dad and Donna and then Pete took over chaperone duties for the pavement section into Fish. I was definitely starting to feel the effects of 16+ hours and 70+ miles of running at this point and settled into a run/walk cycle with some short breaks to try to keep from puking up my toenails. Controlling one's stomach is one of the more difficult tasks during an ultra and those who can do it, usually fare well. I usually end up having troubles at some point during the race and really started to battle nausea during the section from Treeline to Fish. We plowed on, however and soon met up with the rest of the crew at Fish. I was weighed again here and somehow gained 2 pounds since Winfield. Go figure.
Fish Hatchery to May Queen (21:45:18, miles 76.5-86.5):
And the shit hit the fan…
This section was my demise and if it weren't for Bob's steady handling, I would probably have never made it up this friggin' hill. We left Fish briefly before heading back to try to correct some hot spots on my feet. Once those were treated, we left again and just walked up the road to the Powerline climb. This is the last major obstacle of the race and climbs very quickly to 11,600′. It is brutal. I started puking at the very bottom of the climb and Bob kept me moving (for the most part) between bouts of nausea and crankiness about whether I could make it. I really can't say enough about how much of a help he was on this section. It couldn't have been fun for him at all and we ended up walking at least 90% of the 10-mile segment. I lost many places on this section and was really in the dumps. Had there been an opportunity to bail at the summit, I would have. I had to sit down on numerous occasions and food was just not happening for me at all. Bob kept pushing it on me and so I would take small bites, which turned into more frequent smaller bites until, finally, I was feeling well enough after getting down from Sugarloaf and onto Hagerman road, to actually run. Soon thereafter, I was hungry again.
Two items of note here…
Don't be afraid to puke.
You can rally.
I seriously felt better after I barfed up my toenails for the 3rd or 4th time. Once I stopped fighting it and just got it out of the way, I think I was able to really start heeding Bob's advice to rebuild the foundation. Once we started doing that, I really began to recover.
There were some dark, dark moments out there where I only looked forward to some sort of rescue vs. actually finishing. I can not stress enough that things can get better. I was reduced to a heap on the side of the trail and, with a ton of assistance from my amazing crew, support from my coach and Rach, was able to get going again and finish very strongly. Oh, about that…
From Hagerman, we dropped down onto the Colorado Trail, a wonderful and somewhat technical section of trail for which, at this point, I was pretty jazzed. It was interesting to me how certain sections which I had previously really grown to dread turned into really fun portions of the race. I am sure it had a lot to do with coming down from the altitude of Sugarloaf, regaining my vigor and appetite and "smelling the barn" (as the saying goes… I still think I was just smelling me, to be honest) but I thoroughly enjoyed this section. I was eating, really enjoying the technical running and started to pick off other competitors again. A whole new race.
Bob and I made it to the trailhead then spilled onto Turquoise Lake road for the short approach to the May Queen aid station. I arrived in good spirits.
May Queen to Finish (24:42:40, miles 86.5-100):
Bob sprinted ahead and alerted the rest of the crew of my return from the dead and I took a bit of time to sort out my needs for the final section of the race. I couldn't believe I made it out of that deep, dark well on Powerline but was committed to not let my new-found energy and enthusiasm go to waste. Brad drove up from Denver to help pace me on the final leg and I was really looking forward to it. After treating the general population to a free view of my butt (really, who can't draw that from memory at this point?) as I changed shorts and swapping out my shoes once more (mostly for the psychological edge vs. any strong necessity) Brad and I took off toward Leadville for the final 13.5 miles.
I had heard many bad things about this section of the course. For some people, the enormity of the lake is daunting but the night was clear and the nearly full moon reflected off its surface to gorgeous effect. We made decent time on the first section of trail and found ourselves at Tabor Boat Ramp in no time. At this point, I knew I would finish the event. I felt amazingly strong, was eating again, and had only about 8 miles to go. The question was whether I would be able to pull off a sub-25-hour finish for the big belt buckle or if I would miss that mark by some small factor. I told Brad that if we had a shot, we should go for it but if it seemed unlikely, we should just cruise in and not kill ourselves. We left the Boat Ramp and headed toward the dam. This section of trail is much less technical so we were able to start picking up the pace to around 10-minute miles.
I checked the time once again once we made it to the Dam. We had 1:20 to make it the same distance it had taken about 1:00 this morning. It was now nighttime, I had 94 miles under my belt and had been running for nearly 24 hours. Also, the last 6 miles reversed the course of the first 6 miles and now we were facing an uphill challenge. The likelihood of pulling this off was slim but this is what I came to do – see how well I could run 100 miles.
Once we reached the bottom of the last very steep pitch Brad stepped it up and I tucked in for about 1.75 miles of easy downhill running. I just drafted off Brad, focused on a solid cadence and stared at his back. Within a few minutes we had reached the pavement and now only had 4 miles to go and an hour in which to get it done. This race just got interesting.
We just put the hammer down and motored through the pavement section… past the houses along the track… up the last steep pitch at the base of the Boulevard… and before you knew it, we crossed the 3 miles to go mark with 51 minutes left before the cut-off. All I had to do at this point was walk 17-minute miles and I'd have the big buckle. So we ran. Uphill. Fast. We turned what felt like 8- or 9-minute miles most of the way up the Boulevard – slowing down only occasionally for brief walk breaks – until we reached the football field, turned left and headed up the hill in the last mile of the race. I was ecstatic. We were almost home.
The final mile was incredible. We crested the hill and could now see the finish line. I picked up the pace and just felt the energy swell as I neared the finish line. Brad dropped off after putting in an incredible effort to get me this far, this fast and I motored ahead, soaking it all in. I sprinted the final 400 meters to finish the Leadville Trail 100 in 24 hours, 42 minutes, 40 seconds. Redemption.
Post race:
I can not really describe how great it feels to complete this event and accomplish my goals. It has been a long struggle with many ups and downs and I could not have done any of this without the support I have received throughout this adventure. Rach has been there for me night and day, cooking up a storm and offering words of encouragement throughout. Her attention to my nutrition needs and ability to create beautiful, delicious meals from whatever might be left in the house after a Tasmanian Devil (um… that's me… I'm the devil) consumed everything that might be construed as food is just amazing. She stuck with me throughout this arduous adventure – even when I have been less than pleasant to live with. I can not say enough about how incredible she is.
This time last year, I was barely able to run 10 miles at a time. I was still suffering from an injury incurred in the Fall of '08 and recovering from a surgical procedure to help repair that damage. Thanks to stride adjustments and a strict training plan formulated by my coach, Janet Runyan, I was able to build a solid foundation and slowly increase my mileage to the point where I was able to complete this event. Janet was on the phone with my crew throughout the night on Saturday, offering words of encouragement and advice on how to get me moving again up and over Sugarloaf. She and Art Ives helped get me in fighting shape, develop a solid strategy and welcomed me into their weekly training group to keep me racking up the big miles all winter. This base proved to be invaluable.
My crew was phenomenal. Bob paced me over the two toughest sections and put up with my surliness throughout. He kept me moving when I could and got me moving again when I couldn't and to be honest, I am not sure how he put up with me. I would have left me on the side of the trail in a pool of my own puke but Bob stuck with me through all those tough moments without a touch of impatience or frustration. Brad made a special trip up from Denver after giving a presentation for his Master's Degree work to pace me on the final segment and put in a serious effort to get me to the finish line. His humor and attitude are infectious and really gave me an added lift in those last few miles. Edy prepped all my race packs and was at there at every turn with a huge smile and words of encouragement. She also took a lot of pleasure in cheering on the top women in the event, I am told. I agree, Edy, those ladies are incredible! Jess' assistance out of Twin Lakes set the tone for the rest of the race and really raised my spirits. I collapsed on that section three years ago so wasn't sure what to expect but Jess kept me up, kept me moving (and quickly) and really made the Colorado Trail super easy. Pete took on the role of Crew Chief and did an amazing job of organizing everything and keeping the whole show running smoothly. His assistance with pacing on the section from Treeline to Fish Hatchery was terrific as well as he kept moving me in the right direction and put up with my stomach woes. Again, I can't say enough about these guys.
Thanks to Patagonia for creating remarkable clothing. Their stuff is top-notch and well worth a peek if you are in need of terrific clothing of both a technical and non-technical nature. And thanks to everyone who followed online and came up to see me run. It was so uplifting to know that people were out there, following my progress and that so many good friends took the time to come up to Leadville to cheer me on. Really, really terrific.
Now I plan to eat, sleep, eat some more and wallow in the happy glow of this accomplishment. I may even get around to finishing the shed I started building last summer. I am looking forward to many more years of running – probably not 100 miles at a time – I've done that.
But as always… I'll keep you posted.
~stubert.