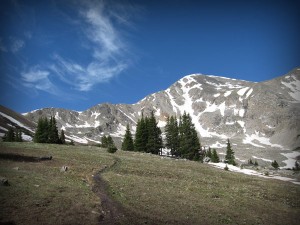 The two most powerful warriors are patience and time. ~ Leo Tolstoy
Mon June 7: 00:30 2.87 miles, Casa Trails barefoot
Tues June 8: 1:00, 5.96 miles, Casa Trails
Wed June 9: 2:40, 14.95 miles, Big Zoo loop GGCSP
Thurs June 10: 3:00, 11.47 miles, Hope Pass hike/run
Sat June 12: 1:30, 8.51 miles, Casa Trails
Sun June 13: 7:03, 35.60 miles, Pbville Course
Total: 15:43, 79.36 miles, 13,770 vertical
I have been terrible about updating this past week due to… well… running a lot and work. Seems that is what it comes down to at this point. With just over 2 months to go until show time, I am getting pretty focused and made it up to Pbville twice this past week for training runs.
The week started a little slowly as I recovered from the heat debacle but then I fell into full swing by mid-week. After a couple of nice trail runs on Tuesday and Wednesday, I hit the road Thursday to go to Gunnison and since Leadville is right on the way, stopped to take a gander at the north side of Hope Pass.
The river is raging right now so I headed upstream to cross via the Willis Gulch bridge. Turns out that was badly damaged by high waters so plan B was put into effect. I headed farther upstream to Pete's Campground (if memory serves) and the camp host alerted me to that bridge being closed due to the rushing water. Plan C. I happened to see another small (yet substantial) bridge between Willis Gulch Trailhead and Pete's and that became my entry to the Hope Pass trail.
I ran about 1.5 miles east until the junction of the Hope Pass trail then decided to get in a little more warm-up by heading down to the race-course crossing to check things out. Yeah, that water was flowing and I would not have wanted to cross it in those conditions. I spun around and headed up Hope for the first time since '07. The trail was in really good shape and I made quick work of the lower, steeper sections and made it to Hopeless in under an hour. Since I was so far up, I decided to just go ahead and see how far up I could go before turned around by either snow or time. I did have to cross several very punchy snowfields but made it to within about 50 feet of vert from the summit before being turned by one last snowfield that just didn't seem worth the effort. Ran back down and finished fairly strongly in 3 hours.
Sunday, I headed back up to Leadville to log some time on the section between the start and the base of Powerline. It rained and snowed the night before so conditions were a bit soggy. I thoroughly lucked out with the weather, however and only got rained/snowed on briefly while running around Turquoise Lake. The Colorado Trail section was super sloppy with a couple inches of fresh, wet snow but Sugarloaf itself was in pretty good shape. A few inches of snow up high and lots of water running throughout but overall it was great to get up there. I summited then dropped down to the pavement on the south side then spun around and headed back up the steep side. This was the first time I had climbed back up Sugarloaf and I have to commend those who can run this thing. It's a bitch.
I felt a little tired heading back up and was reduced to a diminishing run/walk cycle for the remainder of the run. Not super confidence-inspiring but whatchagonnado? Ended up cutting off the Colorado Trail and Turquoise Lake sections on the way back to try to speed my return to Leadville. I had planned to head back up the Boulevard but given my tight timeline, I decided to stay on the tarmac in order to improve my chances of hitching a ride if I was unable to make it all the way back to my car in the prescribed 7-hour time limit. After run/walk cycles up the hill, I reached the cut off and started walking/hitching. Was picked up fairly quickly by a nice guy from Jamestown who dropped me off at my car after about a 1.5 mile ride.
Overall, I am feeling fairly well. I need to get better control of my starting pace and my focus. The word for the week is "patience" and I am going to work on putting it into play on each and every run from this point forward.
~stubert.