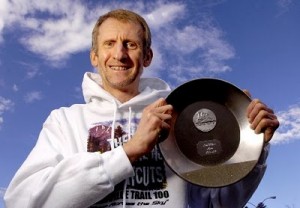 I've got some of this Mendocino Rocket Fuel, that's supposed to be really… ~ Viv Savage
Several weeks ago, I had the pleasure of sitting down with Charles Corfield – LT100 3rd place finisher, Everest summiter, and all-around great guy. Charles took the time out of his busy schedule (I get the impression that he runs at 4 in the morning every day) to meet with me to discuss some ultra tips and tricks, his experience running and his famous Rocket Fuel mix.
Charles placed third at the 2007 Leadville Trail 100 race after being talked into running it by some friends. He had no real intention of running the LT100 and so just jumped into the fray and treated it like running two consecutive 50s. Apparently that worked pretty well as he finished without a crew or pacers in 19 hours 42 minutes. Solid effort.
During the course of our conversation, I learned a lot about how to approach racing, training, hydration and nutrition and discovered that Charles really thinks things through, does extensive research and, perhaps most importantly, experiments to find out what works. He is practical as well, often offering simple solutions to common problems vs. recommending expensive or cumbersome alternatives. He asks questions and then thoughtfully presents solutions. For example, when he inquired about my '07 LT100 attempt and what, in my opinion, went wrong, I mentioned that blisters were an early issue that then escalated to other, larger problems. His solution: Superglue a sock into my shoes to work as a gaiter and superglue the tongue to the upper to keep dirt and grit out. Not particularly elegant but cost-effective, light, and efficient.
One item I really wanted to discuss was his hydration and nutrition regimen. Charles is very scientific about his nutrition needs and calculates exactly what he will need during any given race (or training event) to be sure that he is able to consume the right amount of fuel during the event. This keeps him from getting bogged down by too many calories or bonking from too few. Charles relies primarily (in fact, exclusively, I believe) on a mixture of amylopectin (Waxy Maize) and maltodextrin which has found the name "Rocket Fuel". I started experimenting with the mix in January this year to see if the solution worked for me and I have found, thus far, for it to be a great supplement to, if not replacement for, my "normal" on-trail nutrition. Here is the formula for 3000kCals (~750g of solids):
340g amylopectin
340g maltodextrin
25g protein (Charles uses whey. Being a vegan, I use soy.)
non-sugar flavoring to taste (cocoa, Kool-Aid, vanilla, almond, etc.)
some electrolytes (I take care of this with nuun) and antacids (ground up)
~3 cups of water (to the thickness desired)
During my initial experiments, I was mixing about 3 Tablespoons in a bottle of water. Though this worked well, it was not concentrated enough to work as a stand-alone fuel source. I checked with Charles and he indicated that he mixes his to produce a fairly thick, gel-like consistency that then can be delivered via a fuel bottle vs. in a more "drinkable" form. I subsequently tried this as well and it definitely is the way to go.
During the Moab Red Hot 50K, I used Rocket Fuel from the start. I did make the mistake of mixing it a bit too thickly and this, coupled with very low temperatures, made the fuel a bit tough to work with during the race. I should have added water on the go, but in my hydration depleted state didn't think of that. So really, had I been smarter about it, I know that the mix would have worked even better for me than it already did.
On top of all of this great information, one piece of advice Charles had for me was to listen to what your body is telling you. If you are craving salt, you probably are low on electrolytes. If you are feeling bloated and too "full" you probably have eaten too much too quickly (there are studies that show that we can only process 240-280 cal/hour). Just listen to what your body is telling you and you should do well.
~stubert.